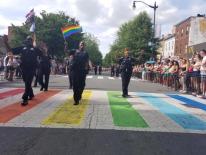 The Metropolitan Police Department (MPD) is fully committed to ensuring the safety and well-being of every person who lives, works, and visits the District. That commitment includes those members of our community who are served by MPD's Special Liaison Branch.
The Department's Special Liaison Branch (SLB) is a model for community policing in its work with historically underserved communities. The SLB works closely with the District's vibrant communities, in particular its African, Asian, Deaf and Hard of Hearing, interfaith, LGBTQ+, and Latino communities. The important work of SLB is carried out by its core members and affiliate officers. The core members are those assigned to the SLB who work on these issues full time. Affiliate officers have volunteered to receive specialized training on diverse communities, their particular issues, and how to best serve them.
The affiliates continue to work in their home district but receive coordinated support, information, and trainings through the Liaison Units. For instance, in addition to receiving a week of specialized training, affiliate members are detailed to SLB for a four week immersion detail. Together, the core members and the affiliates enhance response to these communities throughout the city, 24 hours a day, seven days a week. They also reinforce the messages of progressive training, policies, and procedures to officers throughout the Department.
A primary role of the Liaison Units is outreach to the represented communities. Although these communities have historically been underserved by law enforcement, this is not the case in the District. The Branch serves as a bridge to these members of our larger community whose diversity contributes to the vibrancy of our city. The core and affiliate officers respond to crime scenes and incidents to support members of our community. An MPD victim services specialist works with SLB to focus on crime victims in its communities to support and connect them to non-police services. The SLB also works to support the community with incidents which are not necessarily criminal, such as helping to locate missing persons or with death notifications to family members. The Branch hosts and participates in meetings and presentations and provides the community with public safety materials and information that helps promote a better understanding of interacting with MPD members in criminal and casual contact situations.
MPD works to improve the reporting of bias crimes in the community by providing outreach and educational sessions on the importance of reporting crime. For example, SLB members meet monthly with LGBT community advocates focused on violence prevention, speak regularly on Latino radio, and hold discussions with students about tolerance and safety. In addition to community-building and education efforts, SLB serves as a communication conduit between the police and the community every day. Members of SLB sometimes receive notification of potential hate crimes directly from the community. The SLB also works to support reporting and tracking internally. In 2015, the Department implemented training for all of its members on bias-related crimes, which was delivered by SLB members. SLB members continue to provide training to all new recruits, and reminders are provided to all members at roll calls throughout the year.
Learn More
Get more information on the SLB:
Contacting a Liaison Unit or Affiliate Officer
In case of emergency, or for immediate police response, always call 9-1-1.

Emergency call takers can handle calls in multiple languages and can accommodate members of the deaf and hard-of-hearing community. Once police are on the scene, you may request an on-duty affiliate or Liaison Officer be contacted. For other police services, such as to request an affiliate or Liaison Officer attend a meeting or to discuss other non-emergency issues, please contact the appropriate Liaison Office below.
Contacting a Specialized Unit for Normal Police Business
The Special Liaison Branch has a centralized location at 801 Shepherd Street, NW, Washington, DC, 20011. The main number is (202) 727-5427. Please note that these offices are not staffed 24-hours a day, but all calls will be returned within one business day.
The following units can be reached by calling:
Asian Liaison Unit
(202) 724-8009
Deaf and Hard of Hearing Liaison Unit
(202) 553-7874
Lesbian, Gay, Bisexual and Transgender Liaison Unit
(202) 727-5427
Latino Liaison Unit
(202) 673-4445
SLB Email Discussion Group
Join the SLB email discussion groups to keep informed about current events and news from the SLB. Go to https://groups.google.com/forum/#!forum/official-mpd-slb to join.