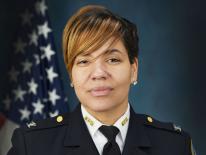 Commander Morgan C. Kane
Commander Morgan C. Kane currently serves as the Commander of the First District. Located in the lower central portion of the District of Columbia, the First District is home to the city's business and political center. It includes some of our nation's most recognized and cherished landmarks, as well as some of the city's most interesting and diverse neighborhoods. Morgan C. Kane was appointed as the commander of the First District in August 2016.
Commander Kane joined the Metropolitan Police Department in December 1998, and began her career as a patrol officer in the First District following her training at the Metropolitan Police Academy. She was promoted to sergeant in 2004. Three short years later, in 2007, she made lieutenant. In 2012, she was promoted to captain and became an inspector in 2014.
During her 20-year career with the MPD, Commander Kane has worked in a variety of posts. In addition to patrol work as a sergeant and a captain, Commander Kane has also been assigned to the Office of Organizational Development, the Office of Homeland Security and Counter-Terrorism, and the Executive Office of the Chief of Police.
Commander Kane has received numerous awards throughout her career. She has received Achievement Medals, Commanding Officers Commendations, and the PSA Officer of the Year. Additionally, while serving as an Assistant District Commander in the Fifth District in 2013, she was recognized as Captain of the Year.
Commander Kane holds a Bachelor's degree in Paralegal Studies from Marymount University as well as a Masters Degree in Public Administration from the University of District of Columbia. She is also a resident of the First District.