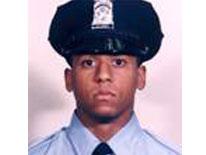 Officer Killed in the Line of Duty
Date of Death: February 26, 1997
Rank: Officer
Age: 27
Years of Service: Three
Marital Status: Married
Children: One
Location of Death: 4400 block of Rena Road, Forestville, Maryland
Circumstance:
Officer Smith was shot and killed outside of his apartment in Forestville, Maryland, while off duty during a robbery attempt. Officer Smith was returning home from his shift in civilian clothes when three suspects approached him as he was exiting his vehicle outside of his home. During the robbery they made him lie face down. As they searched him they found his duty weapon and badge and then shot him three times in the back of his head as he lay on the ground. The three suspects were arrested and charged with first degree murder.
Officer Smith was survived by his wife and five year old son.
View personal remembrances from the officer's friends and family.
Return to the list of officers killed in the line of duty.