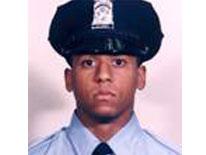 Date of Death: February 26, 1997
You will always be rememberd, never forgotten
— Jamia
Submitted 10/31/07
---
Death had won his battle
But Christ will win the war
And rejoin our little family for all ETERNITY
— Love always, your wife and son
Submitted February 2000 (via Washington Post)
---
Date of Death: February 26, 1997
Rank: Officer
Age: 27
Years of Service: Three
Marital Status: Married
Children: One
Location of Death: 4400 block of Rena Road, Forestville, Maryland
Circumstance:
When a resident of a Forestville apartment complex where Officer Smith lived heard gun shots, he called the police. Officer Smith was the first to arrive at the scene and was shot twice in the back of the head. No bullet casings were found. Police called the the shooting an execution-style murder. From the bruises on his face and neck, Officer Smith looked as though he had been choked before he was shot. His gun, wallet, and badge were not on him.
Officer Smith was about 15 yards from his second-floor apartment he shared with his wife and young son.
Return to the list of fallen officers.