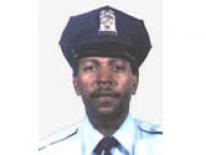 Officer Killed in the Line of Duty
Date of Death: December 14, 1987
Rank: Officer
Age: 43
Years of Service: 18
Location of Death: Maryland
Circumstance
While in an off-duty capacity, Officer James Gordon returned to his residence in Maryland where he found an open window to his home. Suspecting a burglary, Officer Gordon entered his home with his weapon drawn. A neighbor, seeing a man enter the residence, called the police. Upon the arrival of the police, a Prince Georges County oficer observed a man with a gun inside the residence. He ordered the man (later identified as Officer Gordon) to drop the weapon. As Officer Gordon turned with his gun in his hand, the Prince Georges County officer fired his service weapon, striking and fatally wounding Officer Gordon.
Biography
Forty-three year old Officer James L. Gordon had been a member of the Department for 18 years. He had one child at the time of his death.
Honor One of MPD's Fallen Officers
Submit your thoughts or remembrances. Please be sure to include the name of the officer of the subject line of your message.
Return to the list of officers killed in the line of duty.