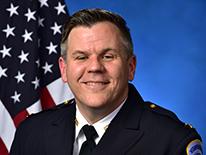 Duncan Bedlion
Duncan Bedlion currently serves as the NTIC Liaison and the Office of Intelligence Commander, in the Homeland Security Bureuau.
Commander Bedlion began his career with the Metropolitan Police Department in 2005. In 2006, he was assigned to the Sixth District as an officer. In February 2010, he was promoted to sergeant where he was assigned to the Fifth District. In January 2014, he was promoted to lieutenant where he managed PSA areas 102 and 103 addressing a variety of neighborhoods ranging from the vibrant downtown area of Chinatown to such landmarks as Union Station.
In 2015, Commander Bedlion was given citywide responsibilities overseeing the growing Nightlife Units of MPD, working under the Executive Office of the Chief of Police and later the Homeland Security Bureau. In April 2016, he moved to the Criminal Investigations Division where he managed the Seventh District Detectives Unit. One year later in April 2017, he became the unit commander of the Sexual Assault Unit.
In January 2018, he was promoted to captain and returned to the Fifth District where he led the Summer Crime Initiative Area in such neighborhoods as Rosedale and Langston Carver. Commander Bedlion was appointed as the commander of the Second District in January 2019. Duncan Bedlion currently serves as the Commander of the Second District within the Metropolitan Police Department from January 2019 through March 2023. Located in the Northwest quadrant of the District of Columbia, the Second District includes a number of residential neighborhoods and commercial streets, as well as is the home to some of DC's most beautiful and treasured landmarks.
Commander Bedlion moved to the District of Columbia in 1999 and holds a Bachelor's Degree in Political Science from George Washington University. In 2013, he returned to George Washington University where he received a Master of Professional Studies in Security and Safety Leadership. He loves spending time hiking and watching football with his wife and three young sons.