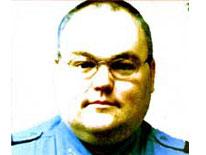 Officer Killed in the Line of Duty
Date of Death: June 2, 2004
Rank: Sergeant
Age: 34
Years of Service: 13
Location of Death: 5400 block of Livingston Terrace, Oxon Hill, MD
Circumstance
At approximately 4:15 am, on June 2, 2004, officers from the Prince George's County Police Department responded to the 5400 block of Livingston Terrace in Oxon Hill, MD, where Sergeant Clifton Rife II, an off-duty Metropolitan Police officer, was found suffering from a gunshot wound. Sergeant Rife, assigned to the Department's Major Narcotics Branch, was apparently shot during a robbery attempt.
At some point during the robbery, the sergeant discharged his service weapon and killed the suspect. Sergeant Rife was taken to Prince George's Hospital Center, where he was later pronounced dead.
Biography
Sergeant Clifton Rife II, born July 31, 1969, became a member of the Metropolitan Police Department on November 5, 1990. After graduating from the academy, Sergeant Rife began his career in the Seventh District, where he served until being assigned to the Maurice T. Turner Jr., Institute of Police Science on March 28, 2000.
Rife left IPS, then returned as a sergeant, until he joined the Major Narcotics Branch, his last assignment, on January 23, 2003. Sergeant Rife's personnel jacket includes 16 commendations for various actions, including a heroic effort in 1996 where he entered a burning building and suffered smoke inhalation.
Sergeant Rife is survived by his wife, two children, mother and father, and brother. "He will be sorely missed," said Lt. Richard Mattiello.
Return to the list of officers killed in the line of duty.