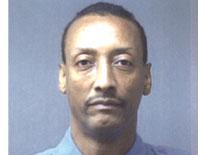 Officer Killed in the Line of Duty
Date of Death: April 10, 2007
Rank: Officer
Age: 57
Years of Service: 4
Location of Death: Mt. Pleasant & Lamont Streets, NW
Circumstance
At approximately 9:15 pm on Friday, April 6, 2007, Third District Officer Wayne Pitt was in his police vehicle blocking traffic for an Easter procession at Mt. Pleasant and Lamont Streets, NW. Officer Pitt exited his vehicle to stop the operator of a motor scooter from crossing into the path of the procession when he realized his vehicle was still in gear. He reportedly attempted to jump back into the vehicle to bring it to a stop, but was still partially out of the car when it struck the scooter and a parked car, occupied by two people, and then striking a tree. The occupants of the car and motor scooter operator were not injured. However, Officer Pitt was taken to the Washington Hospital Center, where he underwent surgery for apparent internal injuries. Sadly, on April 10, 2007, Officer Pitt passed away due to complications from his injury.
Biography
Officer Wayne Pitt was a 4-year-veteran, with the department's Third District. Before joining the Metropolitan Police Department in May 2002, he was with the Durham Police Department in North Carolina for twenty years. "There are two law enforcement agencies mourning his death today," said MPDC Police Chief Cathy Lanier. "I have heard great things about Officer Pitt; we are all mourning his death."
Return to the list of officers killed in the line of duty.