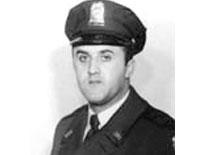 Officer Killed in the Line of Duty
Date of Death: October 16, 1976
Rank: Sergeant
Age: 39
Years of Service: 13
Marital Status: Married
Children: Three
Location of Death: 816 E Street, NE
Circumstance:
Sergeant Acri and other officers responded to a domestic call for a man threatening a woman with a knife. Upon their arrival the female was placed under arrest for destruction of property. Sergeant Acri was talking to the male when they suddenly became involved in a struggle. The male grabbed Sergeant Acri's revolver and wounded one officer in the leg and fatally shot Sgt. Acri in the chest.
Sergeant Acri died on the scene.
View personal remembrances from the officer's friends and family.
Return to the list of officers killed in the line of duty.