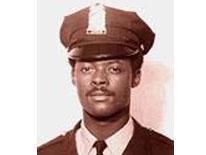 Officer Killed in the Line of Duty
Date of Death: June 6, 1979
Rank: Officer
Age: 34
Location of Death: 700 Yuma Street SE
Circumstance:
Officer Jackson was the pilot of the Police Helicopter that suddenly crashed in the 700 block of Yuma. JUNO ONE had just cleared a false "Burglary in Progress" call when it experienced electrical problems and hit power lines
Both officers perished.
Return to the list of officers killed in the line of duty.