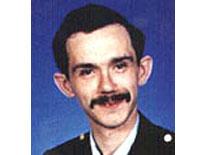 Officer Killed in the Line of Duty
Date of Death: February 12, 1980
Rank: Officer
Age: 29
Years of Service: Four
Marital Status: Married
Location of Death: 14th and U Streets, NW
Circumstance:
On February 11, 1980, Officer Snyder and his partner saw a drug transaction in the 2000 block of 14th Street, NW and attempted to arrest the suspect. The officers separated, trying to trap the suspect between them in case he fled on foot. As Officer Snyder approached, he was shot in the head and stomach below his bullet proof vest.
His partner fired at the suspect and then grabbed Officer Snyder's weapon and fired it.
Officer Snyder died the following day.
View personal remembrances from the officer's friends and family.
Return to the list of officers killed in the line of duty.