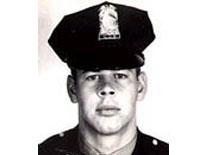 Officer Killed in the Line of Duty
Date of Death: May 3, 1959
Rank: Officer
Age: 22
Years of Service: 1
Marital Status: Married
Children: One son
Location of Death: 7th and L Street, NW

Circumstance:
Officers Shelton and Anzallo were walking back to the station for check off. A citizen reported to them that a man had just shot two women in a bar and fled up the street.
Officer Shelton chased the suspect down the alley. The suspect, who was hiding in a doorway, shot Officer Shelton as he ran through the alley.
As Officer Shelton was dying, he stood and emptied his revolver at the suspect.
Return to the list of officers killed in the line of duty.