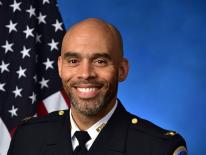 Randy Griffin currently serves as commander in the Technial and Analytical Services Bureau (TASB), which oversees all information technology services, as well as research and analytical services used to support innovative policing operations and public safety practices.
Griffin began his career with MPD as a Fourth District patrol officer in 2001. He served as lieutenant for the Fifth District where he developed and implemented several PSA-specific crime plans which resulted in the reduction of both violent crimes and property crimes. Griffin has also supervised the Corporate Support Bureau's Firearm Examination Section where he prepared and reviewed grant proposals and supervised the collection, processing, and storage of firearms and evidence, and presented quarterly firearm investigation reports to the Metropolitan Police Department's command staff.
As captain, Griffin was assigned to the Third District, where he was responsible for analyzing crime patterns, developing strategies to combat crime and addressing community concerns. He was promoted to commander of the Fourth District in March 2018. He transitioned to the Technial and Analytical Services Bureaul (TASB).
Over the course his career, Randy Griffin has received numerous trainings and certifications and manages to find time to volunteer within his community as an AAU basketball coach. Randy Griffin graduated from Morgan State University in May 1996.