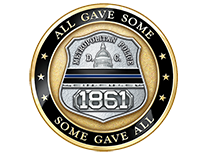 Officer Killed in the Line of Duty
Date of Death: August 20, 1874
Rank: Officer
Age: 32
Years of Service: 4 years, 10 months
Circumstance
On Thursday, August 20, 1874, at about 1:20 am, Officer Robert Fleet was walking his beat and at 15th & Q Streets, NW, when he saw light made by a fire "near the head of 15th Street, NW." He immediately turned and ran three blocks to fire alarm box 79. He placed his fire alarm key into the box and succeeded in turning in the alarm. According to witnesses, as soon as he pulled the alarm, he fell to the ground leaving his key in the box. Witnesses quickly ran to his aid, but it was too late, Officer Robert Fleet was dead as a result of an apparent heart attack. Help was called and his body was removed to the Fourth Precinct Station House.
Biography
Robert Fleet was born in Washington, DC in 1840 to Margaret Simpson. He enlisted in the Navy on May 30, 1859, in the city of Boston, serving for 3-yeasrs as a Civil War Sailor. After his honorable discharge he married Mary Green in Washington, DC and had two children. He was appointed as a patrolman on the Metropolitan Police Department on the 29th of October 1869 and served over three years in the fourth precinct. In April 1873, he was transferred to the second precinct. He was a member of the Social Lodge of Mason No. 1. He was survived by his wife and two children.
Honor One of MPD's Fallen Officers
Submit your thoughts or remembrances. Please be sure to include the name of the officer of the subject line of your message.
Return to the list of officers killed in the line of duty.