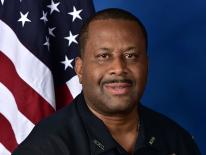 Officer Killed in the Line of Duty
Date of Death: June 4, 2020
Rank: Senior Police Officer
Age: 53
Years of Service: 31
Circumstance
Senior Police Officer Keith Williams passed away on June 4, 2020 from COVID-19 complications.
Biography
Officer Williams was a 31-year veteran of the Metropolitan Police Department. His last assignment was with the MPD's School Safety Division.
Officer Williams began his career in DC Government as a custodian with DC Public Schools before joining the Metropolitan Police Department. He started at MPD in 1989 at the Seventh District and served in various assignments until his retirement in 2017. Williams was reappointed as a Senior Police Officer and served as a School Resource Officer in the Third District until his passing.
Officer Williams is survived by his wife, four children, and granddaughter.
Honor One of MPD's Fallen Officers
Submit your thoughts or remembrances. Please be sure to include the name of the officer of the subject line of your message.
Return to the list of officers killed in the line of duty.