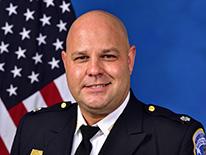 James Boteler, Jr. currently serves as Inspector of the Fourth District and Substation. The Fourth District covers the upper Northwest (east of Rock Creek Park) and Northeast quadrants of the city, including the neighborhoods of Carter Baron, 16th Street Heights, Fort Totten, Lamond/Riggs, Shepherd Park, Takoma and Petworth.
Boteler began his career as a patrol officer with the Metropolitan Police Department's Seventh Police District in 2002, after serving as a Sherriff's Deputy in the State of Maryland for two years. From 2004 to 2010, Boteler was assigned to the Narcotics and Special Investigation Division (NSID), where he rose from the rank of Officer to Detective. While in NSID, Boteler worked with on different MPD/federal partnerships with agencies like the US Drug Enforcement Administration (DEA) and the Bureau of Alcohol, Tobacco, Firearms and Explosives (ATF). He also spent time working in NSID's Strike-Force Narcotic Unit/Homicide Prevention Project, as well as the Gun Recovery Unit.
In February 2010, Boteler was promoted to Sergeant and assigned to the Third District. There, he worked in the Vice Unit and supervised the 3D Crime Suppression Team. Five years later, in March 2015, Inspector Boteler was promoted to the rank of Lieutenant, and returned to the NSID. As a lieutenant in NSID, Boteler managed members of the Electronic Surveillance Unit, the Criminal Interdiction Unit and the Criminal Apprehension Unit.
When Inspector Boteler was promoted to the rank of Captain in April 2018, he was assigned to the Seventh Police District. While there he served as the administrative manager responsible for oversight and execution of the day-to-day operations for the entire District and provided management for all of the Districts Specialized Units and Special Projects. Additionally, at the rank of Captain, Boteler operated successfully as the dedicated "Washington Highlands" Summer Crime Initiative (SCI) Captain for three years in a row (2018, 2019 & 2020) as well as the Fall Crime Initiative (FCI) Captain in the fall of 2019. Over the years Boteler has received countless awards, commendations and accolades to include being awarded the agency's 2013 Sergeant of the Year Award, 2019 Captain of the Year Award, and several other Unit of the Year Awards.
James Boteler was promoted to Inspector in May 2021 and assigned to the Fourth District. Inspector James Boteler has a BA in Criminology from University of Maryland, College Park.