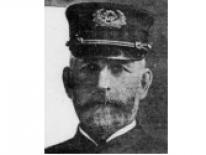 Officer Killed in the Line of Duty
Date of Death: March 5, 1909
Rank: Captain
Age: 53
Years of Service: 23
Marital Status: Married
Children: One
Location of Death: Fifth Precinct Station
Circumstance:
On Friday, March 5, 1909, Officer JW Collier responded to the Captain's office to be reprimanded for his failure to report for Reserve Duty on Wednesday night.
A struggle ensued in the Captain's office, and Officer Collier drew his revolver and shot Captain Mathews five times in the head, causing instant death.
Officer Collier was arrested on the scene without further incident.
biography:
Return to the list of officers killed in the line of duty.