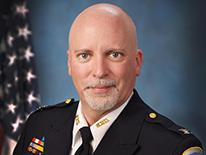 John Haines currently serves as Commander of the Narcotics and Special Investigations Division within the Metropolitan Police Department. As part of the Investigative Services Bureau, Commander Haines oversees the Division that is responsible for the investigation and disruptions of drug/narcotics trafficking, firearms trafficking offenses, and prostitution and human trafficking offenses in the District of Columbia.
Upon graduating from the Metropolitan Police Academy in 2000, Commander Haines was assigned to the First District as a patrol officer where he served for five years. In 2005, he became a crime scene technician within the Forensic Division and was later promoted to Sergeant in 2005, where he served as a first line shift supervisor in the Fifth District. He also served as a supervisor for a Tactical Team, supervising a team of highly motivated officers that were tasked with targeting violent crime suspects within in the Fifth District.
In 2008, Commander Haines was promoted to Detective Sergeant within the Narcotics and Special Investigations Division, detailed as a supervisor to the Federal Task Force in the Drug Enforcement Administration (DEA) Mobile Enforcement Team. In 2009, Commander Haines was promoted to Lieutenant in the Fourth District where he was responsible for all personnel, crime, crime trends, crime strategies, and administrative matters that pertained to Patrol Service Area 401. Commander Haines also served as a Special Mission Lieutenant supervising the Fourth District's Vice Unit, Auto Theft Unit, and the Suppression Unit.
Commander Haines was designated as the Acting Captain for the Criminal Investigations Division, District Investigations Branch in 2015, where he supervised 200 members of the Criminal Investigations Division. In 2016, he was promoted to the rank of Captain and assigned to the Seventh District where he assisted in overseeing all operations of the Seventh Patrol District, which included the supervision of approximately 300 police officers in day-to-day patrol operations.
Commander Haines is a 2012 graduate of the FBI National Academy, session 250.