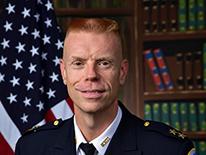 Jeffery Carroll is currently serving as the Assistant Chief, managing the Homeland Security Bureau (HSB). His position is one of five Executive Command Staff positions that are responsible for the implementation of goals and objectives set by the Chief of Police and Mayor of the District of Columbia.
Before being named assistant chief of HSB, Carroll served as commander of the Special Operations Division (SOD) where he managed all special operations units. In this role, he oversaw the Emergency Response Team, Explosive Ordinance Division, Harbor Patrol, Canine Unit, Domestic Security Operations Unit, Major Crash Unit, Motor Career Unit, Horse Mounted Unit, Canine Unit, Planning Unit, and Special Events Unit which handles all dignitary protection details for the Metropolitan Police Department.
Prior to his current position at SOD, Carroll was assigned to the Third District where he oversaw patrol operations of the Shaw, Logan Circle, Adams Morgan, Columbia Heights, and LeDroit Park sections of Northwest, Washington DC. He also was responsible for overseeing all eight patrol service areas and all units within the district, which included monitoring crime trends, emerging crime patterns, as well as developing strategies to best combat identified problems in the Third District.
Assistant Chief Carroll began his career with MPD in 2002. After graduating from the Academy, he was assigned as an officer in the Third District, serving in PSA 310 (the current PSA 307) until 2007. In October of that year, he was promoted to sergeant, where he spent the next year helping manage the day-to-day operations of PSA 107 in the First District. In November 2008, Assistant Chief Carroll began an assignment supporting the operations of the Patrol Services and School Security Bureau as an administrative sergeant. There he reviewed administrative matters to support all seven police districts and ensured the smooth operation of the Bureau.
Promoted to lieutenant in February 2010, Assistant Chief Carroll commanded Police Service Area (PSA) 308 for about 18 months. He was later assigned to manage PSA 307, spending a total of three and a half years as a lieutenant in the Third District. Assistant Chief Carroll was promoted to captain on April 6, 2014, serving in the Sixth District as the Assistant District Commander, managing three police service areas, and the Crime Suppression Team. In December 2014, Carroll was assigned to the Special Operations Division to manage the Special Events Branch, which handles Dignitary Protection details, the Motor Carrier Safety unit, the Photo Enforcement Unit, Canine and Horse Mounted Units as well as other functions.
Assistant Chief Carroll graduated from Towson University with a Bachelor's Degree in Sociology and Anthropology in 2002. He earned a graduate certificate in Criminal Justice Education from the University of Virginia and is a graduate of the FBI National Academy. Assistant Chief Carroll also received a Master's Degree in Security and Safety Leadership from George Washington University in 2017. In his free time, he enjoys kayaking, going to the beach, and spending time with family.