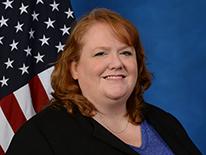 Kelly O'Meara serves as the Executive Director of the Metropolitan Police Department's Strategic Change Division in the Executive Office of the Chief of Police. As the Executive Director, Kelly develops and coordinates legal, operational, political, and fiscal strategies to address diverse topics, and advises the Chief of Police and city executives on high profile issues.
Kelly oversees the Special Liaison Branch, the Language Access Program, and Behavioral Health Partnerships, all programs focused on partnering with and assisting historically underserved communities in the District. Kelly also supervises MPD's policy development branch and the agency performance management program that includes measuring, evaluating, and reporting on agency initiatives. She manages the legislative affairs, and works closely with the Council of the District of Columbia, United States Congress, and partner agencies. Kelly advocates on behalf of the agency at hearings and in interagency efforts, and briefs community members on key legislative issues.
With more than 20 years of experience in Public Administration, Kelly has a variety of experience directing and overseeing organizational development, performance management, and strategic planning. Some of her previous experiences include directing Hands on DC, an all-volunteer community program, and working for Intercom International Consultants and Youth Service America. Kelly first came to the District government in 2001 as a Capital City Fellow, a program that positions individuals with advanced degrees to meet the challenges of local government management while developing talent for the District of Columbia.