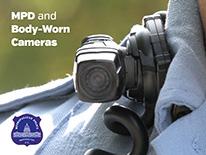 According to District law, the Metropolitan Police Department (MPD) shall schedule a time for any subject of a body-worn camera (BWC) recording to view that recording, provided no other individual is identifiable using information included in the footage. The subject, his or her legal representative, and the subjects' parent or legal guardian (if the subject is a minor), may view the BWC recording at the police station in the police district where the incident occurred. The video may only be viewed at an MPD location; copies of the video will not be provided to the requester.

If a request to review body-worn camera video footage is denied, an individual may submit a Freedom of Information Act (FOIA) request for additional information or a redacted version of the video.
In order to ensure that the video has been uploaded into the MPD storage database, the individual must wait at least 48 hours after an incident before filing the request.
If Your Request to View a Video Is Denied
In the interest of protecting the privacy rights of other individuals captured on body-worn camera video footage, there are instances in which a viewing may be denied in full, or content within the footage redacted (blurred). If your request to view a video is denied, you may submit a FOIA request.