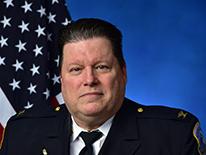 Ralph McLean currently serves as the commander of the Fifth District. The Fifth District covers much of the Northeast quadrant of the city. It includes an interesting and diverse mix of neighborhoods, including Brookland, Ivy City, Trinidad and Woodridge. The Fifth District is also home to a number of significant landmarks, including the National Arboretum.
Commander McLean joined the Metropolitan Police Department in February 1983, and began his career as a patrol officer in the Third District following his training at the Metropolitan Police Academy. He moved to the Special Operations Division (SOD) Special Events Branch in 1986 before being promoted to the rank of sergeant in July 1988 and being transferred to the Sixth District. He was subsequently transferred to the SOD Harbor Patrol Unit in 1989. In October 1990, Commander McLean was promoted to lieutenant in the Third District. He remained at 3D for six years before returning to Harbor Patrol in December 1996. While a lieutenant, McLean served as the Commanding Officer of the MPD's Harbor Patrol and was the city's Harbormaster for 2½ years.
In January 1999, McLean was promoted to captain. Over the course of several years, he served in the Second, Fourth and First police districts. In July 2006, he was named Deputy Director of the Metropolitan Police Academy (MPA). Shortly over a year later, McLean transferred to the Internal Affairs Division where he served a year as commanding officer of Internal Investigation Branch and a subsequent year as commanding officer of the Force Investigation Team.
McLean returned to patrol services as captain in the Seventh District in 2009; he transferred to the Third District in October 2014. In April 2017, following his transfer to Patrol Services South, he received the Bureau Employee of the Year Award.
In November 2019, McLean was assigned to the Narcotics & Special Investigations Division (NSID) as the assistant division commander. That same month, McLean was detailed to the Department of General Services (DGS) as Acting Associated Director of the Protective Services Division (PSD). Among other services, PSD provides security at the Wilson Building, the Consolidated Forensics Laboratory, and the DC Armory. Furthermore, PSD supervises over 500 contract Special Police Officers (SPOs) at approximately 88 other sites owned/leased/operated by the DC Government.
Ralph McLean was appointed as the commander of the First District in July 2021; in March 2022, he took a new post as Commander of the Fifth District.
Commander Ralph McLean has received numerous awards and recognitions, including Meritorious Service Medal; Achievement Medal; Patrol Services South Employee of the Year Award; and Captain of the Year Award. Commander McLean holds a BA in Criminal Justice (1994) from the University of Maryland, and an MS in Management (2002) from Johns Hopkins University.