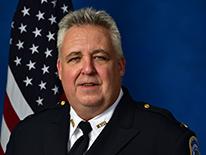 Commander William FitzGerald joined the Metropolitan Police Department in March 1990. Commander FitzGerald has served in a number of patrol and investigative positions as he progressed through the ranks during his 25-year career with the MPD. William FitzGerald was named commander of the Fifth District in June 2015.
Commander FitzGerald 's first assignment following his recruit training was as an officer in the Fourth District. In 2001, FitzGerald was promoted to sergeant and assigned to the Third District. Three years later, he moved to the Criminal Investigation Division (CID), in the Intelligence Section. When FitzGerald was promoted to lieutenant in 2006, he moved to the Investigative Services Bureau (ISB), where he managed the Operations Section of ISB. In 2009, he returned to the Criminal Investigation Division, in charge of the First District Detectives Unit. FitzGerald was promoted to captain in December 2012 and he took on a new post in the First District – Assistant District Commander. In May 2013, FitzGerald returned to the CID, this time overseeing all seven District Detectives Units. Commander FitzGerald has received a number of commendations throughout his career. Most significantly, in 2001, he was named Investigator of the Year in the 4th District.
Commander William FitzGerald has a Bachelor's of Science in Management from St. Francis University in Loretto, PA. He currently lives in the District of Columbia.