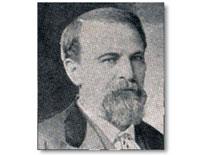 A.C. Richards was born in Massachusetts, but at the age of six years, moved to Ohio where he lived until 1851. He attended several schools in Ohio and in Upstate New York, and graduated from the Western Reserve Teacher's Seminary in Kirtland, Ohio.
When he came to Washington, DC Richards was hired by the Union Academy as a teacher, where he worked from 1851-1859. After that, he set out and established the Prescott High-School where he remained until the Civil War broke out.
Later, he was placed as a clerk in the City Post Office where he remained until he was selected to be the Chief (Major and Superintendent) of the Metropolitan Police. He served as Chief of Police for 14 years.
Richards' career as chief lasted through the growing pains of a fledging department and a young city serving as host to thousands of encamped and wounded union soldiers during and after the Civil War.
Richards' tenure saw the assassination of President Lincoln at Ford's theater and the establishment of Police Headquarters across from the courthouse at 5th and Indiana Avenue, NW. Superintendent Richards traveled to New York City to study their methods and adopted many of their practices. He oversaw the police department as it attempted to improve by getting better equipment and quarters.
Chief Richards resigned in 1878 and continued his education, becoming a lawyer and practicing in the District of Columbia. He later retied to Florida, where he passed away.