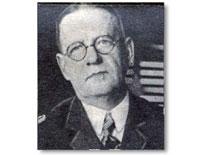 Major and Superintendent (October 1925 - April 1929)
Following Mr. Hesse, who was serving as Chief and Property clerk at the time of his promotion to Major and Superintendent, did not come from the ranks of the privates and patrolmen, but rose to his station by successfully holding several different posts within the police department and the fire department.

Born in 1873 in Washington, he started as a stenographer for the Police Department, but went on to be Chief Clerk of the Fire Department and then Secretary to the then Major and Superintendent Sylvester.
During his tenure as Major and Superintendent Hesse administered the addition of the thirteenth and fourteenth precincts as the department expanded its service to the constantly growing city. Superintendent Heese worked for better lighting to protect his officers stationed at dark intersections during the nighttime hours, and actually removed ten of them from their posts until the areas were better lit.

Superintendent Hesse also shook the Police Department up by reassigning 47 officials and officers around the force and pressed for physical examinations of those who were fifty five years and over.
In 1928, he shook up the Third Precinct by scattering its entire command and nine privates to other precincts in the city. Superintendent Hesse as was with many of his predecessors became unfit for continued duty and was granted retirement in 1929.

A Washington Post headline of the day stated: "Official had long fought off critics, sixth man overburdened by the heavy demands of arduous office." Superintendent Hesse retired in 1929 and was given an automobile by the Association of Patrolmen as a sign of appreciation.

He died six years later at his home in Washington. He was sixty four.