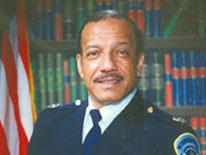 Chief of Police (December 1992-July 1995)
Fred Thomas was born and raised in North Carolina and after being honorably discharged form the United States Army at the rank of sergeant, he joined the Metropolitan Police Department in 1965. Officer Thomas began his career in the 3rd precinct and then in 1970 was promoted to sergeant and assigned to the fifth district. In 1974 at the rank of Lieutenant he oversaw the Major Burglary, Pawn and Bomb Squad, and earned his Bachelor's Degree in Administration of Justice at The American University.

He was promoted to captain in 1976 and assigned to the Third District where he remained until 1979 when he was promoted to inspector. It was at this time that Inspector Thomas earned a Masters of Science Degree from The American University, and was later promoted to Deputy Chief in 1982 and assigned as the Commander of Youth Division. He was then placed in charge of the Sixth Patrol District and he retired from that position in 1985 after twenty years of service.

Deputy Chief Thomas remained active with the Metropolitan Police Department as he served as the Executive Vice President of the Metropolitan Police Boys and Girls Clubs of Washington D.C. from 1985 through 1992, until he was appointed to the position of Chief of Police.

Chief Thomas returned to a department that was in transition as veteran officers retired and a large group of newly hired officers swelled the ranks. Homicides were at an all time high and the city's reputation was suffering. Chief Thomas realized that there was a need for a better internal investigative unit, and worked to further professionalize a force of young inexperienced officers. It was at the end of 1993, when twelve police officers were indicted and arrested in an FBI sting operation during which the officers used their public office to protect alleged drug shipments causing great damage to the already fragile image of the department.

He was chief when an armed gunman killed three and wounded one in shooting spree in headquarters in 1994. Chief Thomas was there to help remove a gravely wounded victim to an awaiting helicopter.

Chief Thomas put a personal face on the Chief's office as he had his cruiser marked "Chief of Police" and he regularly responded to calls, stopped suspects and even fended of an attacking dog.

During his tenure the homicide rate began to decline from its peak as the city was beginning to look towards "Policing 2000," but a budget crisis hit and sent the city and the department into more trying times. After nearly three years as Chief, Fred Thomas resigned in 1995, and became the Director of Public Safety for Prince George's County Maryland. He remained in that capacity until 2003.

Over his 37 years of law enforcement and public safety, Chief Thomas continued his education attending the Federal Executive Institute and the FBI's National Executive Institute and has an array of honors and awards, most notably the Lloyd Seally Award for outstanding service and accomplishment in Criminal Justice.

Chief Thomas currently works as the Vice President of Homeland Security for Systems Applications & Technologies, Inc.