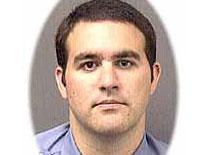 Officer Killed in the Line of Duty
Date of Death: August 10, 2005
Rank: Officer
Age: 25
Years of Service: 2 years
Location of Death: Maurice T. Turner Jr.
Institute of Police Science
Circumstance
At approximately 2 pm, on Tuesday, August 9, 2005, 25-year-old Officer James McBride, a 2-year-veteran patrol officer with the Metropolitan Police Department's First District, became ill. Officer McBride was at the department's Maurice T. Turner Jr., Institute of Police Science taking part in the second day of a five-day-long bicycle training course when he became ill and was taken to the Washington Hospital Center.
At approximately 1:27 pm, on Wednesday, August 10, 2005, Officer McBride was pronounced dead. The cause of death will be determined pending an autopsy by the DC Office of the Chief Medical Examiner.
Chief of Police Charles H. Ramsey noted that Officer McBride was an outstanding officer and was named rookie of the year in 2004. He stated, "We have lost a beloved member of our family. The community has lost a valued and dedicated protector." He added, "Our hearts and prayers go out to his family and other loved ones."
Return to the list of officers killed in the line of duty.