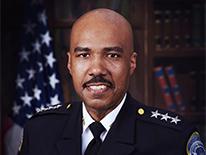 Patrol Chief Robert Contee is currently serving as the Patrol Chief of Patrol Services South (PSS), which includes the First, Sixth and Seventh Police Districts, as well as the Office of Volunteer Coordination.
Patrol Chief Robert Contee brings extensive experience and knowledge to his new role at MPD. He joined the Metropolitan Police Department as a police cadet in November 1989. He became a sworn member of the Department three years later and quickly rose through the ranks, serving in a variety of assignments. He started as a patrol officer in the Third District and a patrol Sergeant in the Second District. As a lieutenant, he worked in Second District patrol operations and led the Intelligence Branch. Assistant Chief Contee was promoted to Second District commander in August 2004 and was transferred to the Special Operations Division (SOD) in April 2006, where he was responsible for overseeing tactical patrol, special events and traffic safety functions. Following his post at SOD, Assistant Chief Contee became commander of the Sixth District, before taking command of the Recruiting Division in October 2014. He was named commander of the First District in January 2016, and was appointed Assistant Chief of MPD's Professional Development Bureau in the summer 2016 where he oversaw the Human Resources Management Division, Disciplinary Review Division, the Metropolitan Police Academy, and Recruiting Division.
Assistant Chief Contee holds a Bachelor's Degree in Professional Studies with a concentration in Police Science from George Washington University. He has also completed the Management College at the Institute for Law Enforcement Administration and the Senior Management Institute for Police (SMIP) of the Police Executive Research Forum in Boston, Massachusetts.