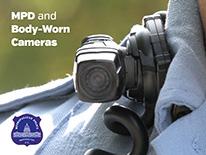 The use of body-worn cameras (BWCs) can benefit members of the community and the Metropolitan Police Department (MPD) by improving police services, increasing accountability for individual interactions, and enhancing public safety. In 2013, MPD began researching the use, purchase, and deployment of BWCs for its police officers. While researching the program, MPD worked with law enforcement agencies across the country that have already deployed BWCs, as well as the independent District of Columbia Office of Police Complaints, the Fraternal Order of Police, the District of Columbia Office of the Attorney General (OAG), the US Attorney's Office (USAO). The Department also discussed the program at community meetings throughout the city and with other stakeholders.
After 18 months of research, MPD launched a 6-month pilot on October 1, 2014, to determine the camera model that best suits the needs of the Department and city. After evaluating five different models, MPD selected models provided by Taser that allow officers to annotate video in the field, without taking officers off the street. Now, Mayor Muriel Bowser has included $5.1 million in her proposed Fiscal Year 2016 budget to fund implementation of a full-scale program to outfit all patrol officers with BWCs.
MPD and Body-Worn Cameras
Click on the still image to see a brief introductory video showing how the body-worn cameras will be used in a real-world scenario by MPD's officers. The video depicts a typical traffic stop and illustrates what the BWCs will capture as the officers carry our their jobs.
Sample Footage from Body-Worn Cameras
The following are a couple examples of real-life traffic stop videos recorded by two of our members during our pilot project. They have been edited to remove any confidential information. Please note: The Taser cameras the officers are currently piloting record video, but not audio, in the first 30 seconds of a recording to present a context for the situation the officer is facing. Consequently, the first 30 seconds of every video will be silent. There may also be audio redacted during the video if the conversation needs to be kept private.
Traffic Stop from November 3, 2014
Traffic Stop from November 27, 2014
As the usage of body-worn camera technology increases and there is a request for more transparency and accountability, MPD has decided on the creation of a new YouTube channel to communicate third-party FOIA requests pertaining to BWCs and requests for footage. Please visit our YouTube channel here for available videos: https://www.youtube.com/channel/UCSVpCusv_bqfKHyOj21jZqQ