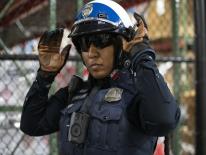 In December 2016, the MPD completed deployment of approximately 2,800 body worn cameras (BWCs) across the District. This was the largest deployment of body worn cameras in the country. The use of BWCs can benefit members of the community and the MPD by improving police services, increasing accountability and transparency for individual interactions, and strengthening trust among law enforcement and the communities they serve. MPD's officers have been open and eager to use this new technology. The willingness of MPD officers to be early adopters of this technology demonstrates their strong commitment to safeguarding public safety and providing the best service to our residents.

To better understand the effects of BWCs in Washington, DC, the MPD partnered with The Lab @ DC, a new applied science team based out of the Office of the City Administrator, to design and implement a randomized controlled trial (RCT) of our BWC program. Under this evaluation, eligible officers in public-facing roles were randomly assigned to wear BWCs (treatment group) or not wear BWCs (control group). By comparing outcomes for officers with cameras to outcomes for officers without cameras, we can learn about the effects caused by the BWCs. Using administrative data, we will examine the effects of BWCs on police use of force, civilian complaints, policing activity, and judicial outcomes. With over 2,200 officers participating in the study, our BWC evaluation is one of the largest and most scientifically rigorous RCTs examining the effects of BWCs to date.

A working paper documenting the study and its findings has been completed, and can be downloaded here. The Lab @ DC has also created a dedicated website for the study.
This evidence will assist decision-makers across MPD in efforts to improve the Department's BWC program and the police services provided in the District of Columbia.
Helpful Links
MPD and Body-Worn Cameras
Click on the still image to see a brief introductory video showing how the body-worn cameras will be used in a real-world scenario by MPD's officers. The video depicts a typical traffic stop and illustrates what the BWCs will capture as the officers carry our their jobs.