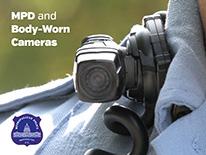 June 19, 2015
Good afternoon,
I am writing to update you on the body-worn camera (BWC) program. First of all, I wanted to thank our police officers who participated in the Phase One/Pilot deployment for their support and commitment. Their participation and feedback have provided us with important insight and lessons that will help to strengthen the expanded roll out of the body-worn cameras.
With that said, it has come time to close the Phase One/Pilot deployment, and move to the Phase Two deployment. I am pleased to announce that MPD is partnering with a research team of national experts, including leading academics from the University of Arizona, to rigorously evaluate the effectiveness of the body-worn camera program. The lessons and findings of this robust evaluation will benefit District residents, MPD, and law enforcement agencies and communities across the country that are also considering the use of body-worn cameras.
The research team has designed a deployment model that will serve as a randomized controlled trial to assess the impact of the body-worn cameras. In Phase Two of the BWC program, the 160 cameras deployed in Phase One will be pulled back, and beginning June 29, 2015, the Fifth and Seventh Police Districts will each receive 200 new cameras. By the end of fiscal year 2016, 1200 cameras will be deployed among each of the remaining police districts.