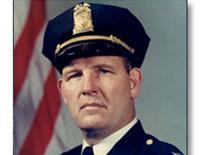 Chief of Police (August 1969-September 1974)
Born in 1928 in South Hill, Virginia, his parents soon moved to Belmont, North Carolina during the Great Depression. At age 14, young Jerry Wilson spied a United States Navy recruiting flyer. He dropped out of High School and signed up.
Jerry Wilson joined the U.S. Navy in 1943, and served aboard a mine sweeper that was engaged in several actions during World War Two. He served in the Navy until 1946, when he left the Navy and joined the United States Marine Corps, as a Military Policeman. He left the Marine Corps in 1947 and returned home to complete High School.

Then in 1949, another recruitment poster caught his eye, and Jerry Wilson joined the Metropolitan Police Department. After a short stint as a footman in the Seventh Precinct, Wilson's strong writing and organizational skills brought him to Police Headquarters where he worked on statistics. Meanwhile, he was taking courses at American University, and graduated Magna Cum Laude, with a BS in the Administration of Justice.

By 1961, he attained the rank of Captain and was placed in charge of fiscal affairs. Jerry Wilson would then rise quickly up the chain as he became the Director of Planning and Development, and then became the Field Operations Commander at the rank of Assistant Chief of Police. It was from this assignment amid growing civic tension and rising crime that Jerry Wilson was promoted to Chief of Police in 1969.

Being an innovator, Chief Wilson reorganized the Police Department, and oversaw the addition of one thousand new officers, which swelled the ranks to 5100. He led the department to a 34% reduction in crime from its all time high of 82,000 reported offenses.

Chief Wilson developed a modular training system for recruit training and took an active interest in what was happening between his officers and the community. He was always at the forefront of demonstrations and major incidents and in many instances directed police action personally.

During his tenure as Chief the Department embraced new technology, put women into uniformed patrol and helped to ease many of the simmering racial tensions in the City. Chief Wilson, unlike many of his predecessors also had a unique relationship with the Nixon Administration, which took a strong interest in D.C.'s crime and Anti-war protests.

He was acknowledged in 1971 in a United States Senate resolution and received numerous awards for valued leadership as Chief of Police and was the oonly Chief of Police to have his portrait on the cover of Time, Inc. magazine. Chief Wilson resigned in 1974, and went on to work for American University as a Chairman and Project Director , for Peoples Drug Stores as a Senior Vice President in charge of Security, for Maryland University as an instructor in private security, and for the Crime Control research Corporation as a Senior Vice President in crime analysis.