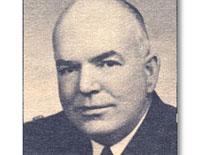 Captain Barrett -- perhaps the lowest ranking official to be selected to run the department -- was promoted to Major and Superintendent in July of 1947, just as one of many scandals was coming to light.
An investigation led by the Washington Post brought out what became known as the "Pocketing Scandal." Apparently, Detectives were routinely re-classifying crimes, or simply not entering them on their books as crimes to be investigated. This was one of many allegations of malfeasance, corruption, and brutality that were to plaque Superintendent Barrett's term in office.

During his administration he attempted to further modernize the police force and in 1949, Superintendent Barrett asks for additional funding to begin a Mobile Crime Identification Lab to supplement criminal investigations.

However, by 1950 allegations began to swirl about corruption and gambling. Superintendent Barrett and the Police Department became the focus of a wide-ranging investigation into gambling kickbacks and narcotics dealings. A commission was established and policemen had to fill out a financial quiz to explain their finances.

Superintendent Barrett became the focal point of that investigation and after complaining of poor health, he was retired in 1951. His life outside of the department was filled with speculation as he neglected to appear to testify to the Commission, and when he did appear, he refused to answer any questions. However, he remained under suspicion and, in 1957, was indicted for Federal income tax evasion.