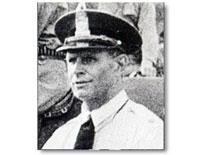 Major and Superintendent (November 1931-October 1932)
Retired Brigadier General Pelham D. Glassford was chosen by the Board of Police Commissioners to replace Superintendent Pratt. Glassford, a former army officer and World War I veteran immediately made an impression as he routinely rode a Police Motorcycle as his primary means of conveyance. His first major initiative was to more strictly enforce the traffic laws of the city and in the course of doing so personally arrested several persons for traffic violations.

Superintendent Glassford was at the head of the Police Department when the strains of the Great Depression came directly to Washington, DC as thousands of former World War I veterans and their families marched to Washington to demand their promised military service Bonuses. During what became known as the "Bonus Army" episode, Superintendent Glassford served when the city became inhabited by thousands of people living in makeshift shanties as they lobbied Congress for their pay. Superintendent Glassford was so well liked by the assembled Veterans, that they named one of their camps, "Camp Glassford" after him.

Unfortunately, the event, which lasted several months, ended up in a full scale riot when the police were ordered to expel the remaining camped out veterans and finally had to be assisted by fully mobilized infantry from Fort Myer to do it. Superintendent Glassford found himself at odds with not only the Attorney General of the United States, but members of his own department. Shortly thereafter, Superintendent Glassford attempted to force an Assistant Superintendent to resign, but was fought on that decision and subsequently submitted his resignation.

He resigned as Major and Superintendent in October of 1932, a scant 11 months since taking the position.