Monday, November 20, 2023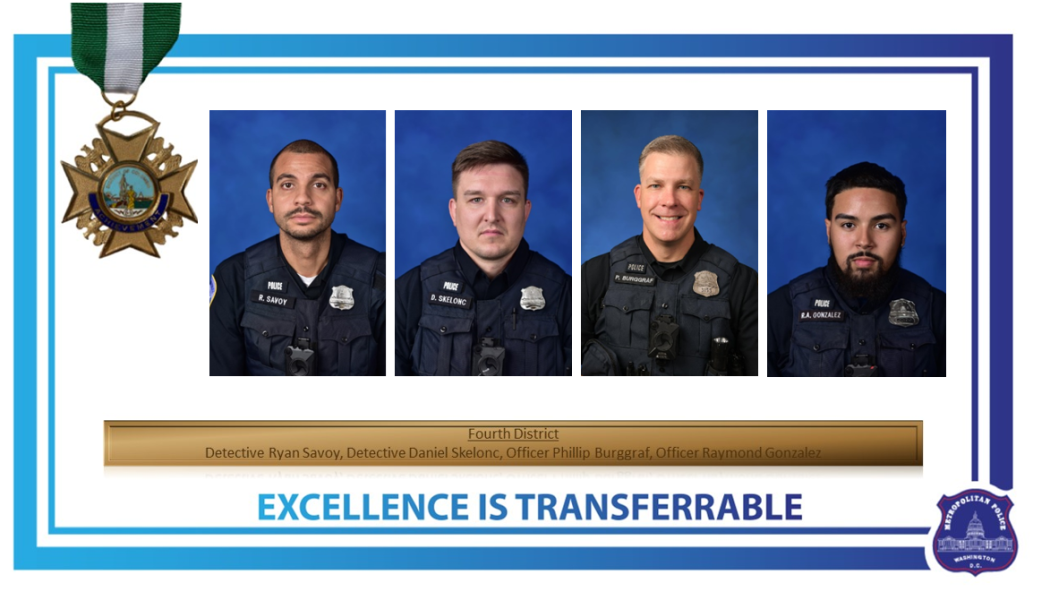 Members of the Metropolitan Police Department were recognized by Chief of Police Pamela A. Smith for their quick apprehension of a robbery suspect and dedication to duty.
On October 26, 2023, Fourth District officers responded to the 5700 block of 9th Street, Northwest for a Robbery Snatch. During the investigation, the victim notified detectives of fraudulent charges on their stolen debit/credit cards at a nearby store. Officer Gonzalez shared the information with other patrol officers in the area while Detective Savoy and Detective Skelonc continued the investigation.
Officer Burggraf began searching the area and located the suspect matching the description given by the victim. The victim identified the suspect, and the man was arrested and charged with Robbery Snatch. The victim's property was recovered.
"This is another example of our officers doing exemplary police work," said Chief Pamela A. Smith. "I am grateful for their continued dedication to creating safe communities."
On Thursday, November 20, 2023, Officer Burggraf, Officer Gonzalez, Detective Savoy, and Detective Skelonc, assigned to the Fourth Police District, were awarded the Achievement Medal for their dedication to duty.