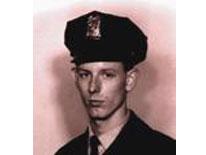 Officer Killed in the Line of Duty

Date of Death: July 14, 1969
Rank: Officer
Age: 21
Years of Service: Nine months
Marital Status: Single
Location of Death: 8th and K Streets, NE

Circumstance:
Officer Hawfield was the passenger in the patrol wagon with Officer Cody when their vehicle was struck by a vehicle that failed to stop for a flashing red light.
Officer Hawfield was thrown through the windshield and killed.
Return to the list of officers killed in the line of duty.