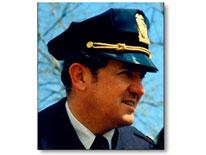 Chief of Police (December 1974-January 1978)
Maurice Cullinane was born in Washington, D.C. in 1932, and grew up in the Trinidad section of the city. After completing high school, he joined the U.S. Navy in 1951 and served until 1953, when he received an honorable discharge.

In 1954, he became the third member of his family to join the Metropolitan Police Department, following his father and great uncle in doing so. He began his career as a patrolman in the First Precinct and during a 1957 Chinese New Year parade, Private Cullinane was made famous by a photograph of him bending over a small child who had come too far out into the street. That photograph won a Pulitzer Prize and is still today a widely recognized image. Private Cullinane then went on to be the last person ever promoted to the rank of corporal as he made his was through the ranks.

By 1973 he rose to the rank of Assistant Chief of Police, and served as the Field Operations Officer. He was promoted to Chief in 1974 and helped lead the Police Department to a reputation as one of the most progressive and professional police departments in the nation. Under his leadership an ingenious "Sting" operation to recover stolen property was undertaken that successfully netted over one hundred arrests.

Chief Cullinane took a personal interest in the department and his personnel and at one point talked a despondent officer out of killing himself. He also railed against the City Council and their proposed budget cuts and signed and agreed upon the first Labor Union contract in the Department's history.

Chief Cullinane's tenure took him through the nation's Bicentennial celebrations, the institution of Home Rule for the city, and one of the most harrowing times in this city's history, when hostages were taken simultaneously in three separate buildings. The District Building, the B'nai B'rith building and the Islamic Mosque were all stormed by armed men of the Hanafi Muslim Sect. The handling of this international incident was deftly managed by Chief Cullinane and his Command Staff. Although some lives were lost in the initial takeovers, after days of negotiation a peaceful resolution was found.

In 1977, Chief Cullinane earned his Bachelor of Science degree from American University and he retired in 1978. Chief Cullinane went on to become Chairman of the Committee to promote Washington, and to this day is an executive board member of HEROES, Inc., a local charity that helps the families of local police officers and firefighters who were killed in the line of duty.