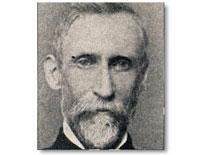 Major and Superintendent (December 1879 - April 1883)
In 1883,William Brock was promoted from Captain to Major and Superintendent in 1879, when Superintendent Morgan was promoted to District Commissioner. As a young man William Brock started off as a tailor, learning his trade in Princess Anne County, Virginia. He joined the Metropolitan Police Department in 1865 at the age of thirty. During his years of service he worked as a long time clerk in the office of the Secretary of the Police Board, until being appointed to the rank of captain.

He became an advocate for the relief of disabled officers and he fought to improve the conditions of many of the Police Stations which were in poor condition. His tenure as Superintendent saw him through some tumultuous years when the recently inaugurated President James A. Garfield was shot and ultimately fatally wounded at the Baltimore and Potomac Railroad Depot and the Detective Bureau was found to be complicit in several crimes.

In 1883, after some accusations of irregularities and a general dissatisfaction with the way the police force was running, the Police Commission decided on a change. Superintendent Brock resigned in April of 1883.