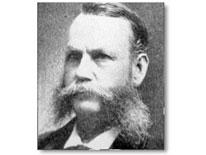 Major and Superintendent (July 1898 - April 1915)
The former Chief Clerk of the Department, Mr. Richard Sylvester was selected to replace the deceased Superintendent Moore. Mr. Sylvester was appointed to his position as Chief Clerk by Major and Superintendent McE. Dye in 1883.

He was born in Iowa, but made his early living as a reporter for the St. Louis Times. He covered police stories and became acquainted with city governments, particularly as they worked to prevent fire and crime, and by 1877, he was assigned as a Washington correspondent. Following a stint as a disbursing Officer of the Ute Indian Commission he returned to Washington and received his appointment as Chief Clerk. Mr. Sylvester was never a member of the police department proper, but he was knowledgeable of its inner workings and versed in its administration.

Superintendent Sylvester took up the reigns of change and instituted a three platoon system by which officers patrolled for eight hours and were held in reserve for four hours. He started the daily bulletins that were issued to notify officers of recent events, and provide lookouts for criminals.

Under Superintendent Sylvester's command the Department began to tackle the modern problem of motorized vehicle traffic and the numerous associated accidents. He also implemented the use of motorcycles and added the new system of recording finger prints to the department's crime fighting arsenal. He established the House of Detention, which separated women and children from the vagaries of being held with the men, and he served as president of the International Association of Chiefs of Police for ten years before retiring in 1915.