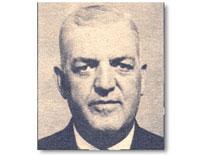 Major and Superintendent (November 1941-February 1946)
Major and Superintendent Edward Kelly took the reins of the department on an interim basis as Superintendent Brown was put off due to illness and while the police administration was being internally and externally criticized. Once Superintendent Brown retired, the Commissioners appointed then Inspector Kelly to head the beleaguered department.
Superintendent Kelly rose up through the ranks starting as a footman in Northwest patrolling the notorious "Swampoodle" neighborhood. He took over a department that had come under great criticism for hits handling of cases, the manner in which they were assigned. Superintendent Kelly's first task was to re-organize the Detective Bureau and better facilitate the handling of investigations. He then shook up the department by making several personnel moves.

As in the previous World War, Superintendent Kelly had to deal with a drain of his officers to military service and the influx of personnel to support the war.

In response to the greater need for manpower and to increase preparedness during a time of war, Superintendent Kelly organized a Volunteer Auxiliary Police Service, as well as, the "Defense Guards" who were placed at key locations for guard duty around the city.

Superintendent Kelly was the first Police Chief to inhabit the confines of the newly built Municipal Building. He placed his office on the northwest corner of the fifth floor where it remains today.

Superintendent Kelly created the first full time Police School and also created a school for Detectives. He ensured that the Scout cars that had one-way radios in them were outfitted with new two-way radios.
It was during Superintendent Kelly's time that a change was made in earnest to referring to the position and title as Chief of Police. While this was the common vernacular in the news and among citizens, the official title of Major and Superintendent had not changed. In 1945, though still routinely called Chief, the Rank of Major and Superintendent was changed, promoting Major Kelly to Colonel Kelly.

After seeing the city through the war, Colonel Kelly, the only Police Chief to receive that rank and title retired in 1946. He went on to become the Superintendent of the National Capitol Parks, and overseeing the United States Park Police.