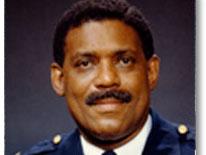 Chief of Police (July 1981-July 1989)
Maurice T. Turner, is yet another native Washingtonian who would go on to become Chief of Police. He was a graduate of Dunbar High School, and in 1954, he joined the United States Marine Corps. He served in the Marine Corps until 1957, when he applied and to become a Metropolitan Policeman.

Maurice Turner joined the Metropolitan Police Department in 1957 as an officer. He was promoted to sergeant in 1965, and then to Lieutenant in 1969. Lieutenant Turner was placed in charge of recruiting when the department was looking to increase its size to 5,100 officers. This was a tremendous undertaking and he made a solid reputation for himself as he helped guide the department to its goal.

As his career progressed he earned more recognition for the manner in which he dealt with demonstrators in what was called "Resurrection City" in 1970. He then moved on to become a Deputy Chief in charge of the Fifth District, until he was again promoted to Assistant Chief and placed in charge of the Field Operations Bureau.

Promoted to Chief of Police in 1981, the confident Maurice Turner began to tackle a growing drug problem that would later reach near epidemic proportions. He began several controversial operations such as "Bamscam" and "Clean sweep." These operations were successful in depleting the targeted areas, and in netted hundreds of arrests, but were costly and began to fill the courts with misdemeanor possession cases.

In 1982, several large-scale events affected the city that Chief Turner had to cope with. The crash of Air Florida Flight 90, and the crash of a Metro train in the same day stretched city resources to the breaking point, to be followed by serious disorder during a Klu Klux Klan march in late November.

Chief Turner was Chief when Washington began its entry into one of its most violent and turbulent eras in crime history; the "Crack cocaine" epidemic. By 1987, homicides related to crack rose steadily every year after, as the streets became increasingly violent.

In 1989, Chief Turner retired but remained in public life as he ran for public office in an unsuccessful bid for mayor as a Republican candidate. He passed away in 1993 and the Metropolitan Police Academy is named in his honor.