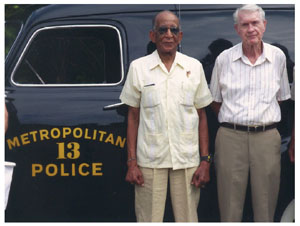 September 2007
Submitted by Sgt. Nicholas Breul
Phillip Broome and Bob Long pose together with one of the 13th Precinct's original scout cars.
On Saturday, September 22, 2007, there was a reunion of members of the 13th Precinct in Silver Spring, Maryland. The former MPD's 13th Precinct Gets Together for a 'Family Reunion'
Precinct was located at 910 U Street, NW, in a building built before the turn of the last century. Sergeant Nicholas Breul, Senior Police Officer Kenneth Stewart and Detective Grade-1 Richard Espinosa attended the reunion to meet the retirees and to share information on the progress of the museum and the photographic archive that is being developed.
Detective Espinosa came to show the retired members his restored 1950 Chevrolet patrol wagon, which just happened to be marked up as a wagon from the 13th Precinct. Detective Espinosa was also appropriately attired in a grey uniform shirt; the type worn in 1950.
The over forty attendees were thrilled by the beautifully-restored wagon and posed for a group photograph in front of it. Then reunion was a luncheon that was organized by retiree Robert Long, uncle to current Captain Jacob Kishter. Captain Kishter was there to enjoy the reunion and sit in on some great storytelling.
The reunited members of the MPD's 13th Precinct stand with a 1950 Chevy patrol vehicle on Sept. 22.
Several of the retired members brought material to turn over to the museum and archive. The wooden square frame clock that hung in the central station area of old number 13, was turned over for inclusion into the museum, while other retirees turned in old photographs, copies of historic documents and annual reports.
One of the retirees, Mr. Dale Wallace turned over a copy of a poem he had written about being a police officer, while another retiree — Mr. Phillip Broome, a Tuskegee airman — showed off a medal he had recently been given to honor his service during World War II.
It was a remarkable thing to see these men and their wives come together again as a family, and seemingly pick up where they left off decades ago. Apparently they are already planning a reunion for 2009.