Domestic violence is a pattern of behavior used by someone to establish power and control over another person through fear and intimidation. It happens between people who are, or have been, in an intimate relationship. Domestic violence often includes the threat or actual use of violence. It happens when one person believes they are entitled to control another.
Domestic violence can take many forms. In many cases the behavior amounts to a criminal act. It is also a unique crime because there is usually a pattern of abuse over time, unlike, for example, when a robbery occurs one evening. Domestic violence tends to be repeated with more frequency and more severity.
Domestic violence can include emotional abuse, such as name-calling and put-downs, and economic abuse, when one person uses money and finances to control the other. Often an abusive partner may be sexually abusive, use or control the children, or threaten, isolate, or intimidate the other. All of these behaviors are used to maintain fear, intimidation and power.
Although not all of these behaviors are against the law (such as in cases of emotional abuse without physical harm), none of them are acceptable; Nobody deserves abuse. In all cultures, the perpetrators are most commonly men, and women are usually the victims of violence.
Acts of domestic violence generally fall into one or more of the following categories defined in the Power and Control Wheel below. Each section of the wheel represents a particular tactic, or kind of abuse. At the center of the wheel is the main intent behind the behaviors: to establish power and control.
The Power and Control Wheel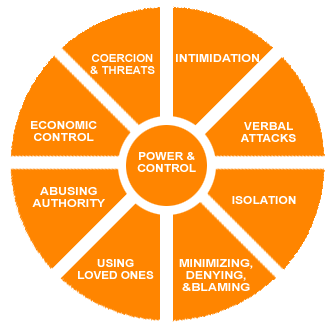 Adapted from the Domestic Abuse Intervention Project - Duluth, MN. Reprinted by permission of Peace At Home (formerly Battered Women Fighting Back, Boston)

For additional domestic violence information:
Domestic Violence Unit
Police Headquarters
300 Indiana Avenue, NW, Room 3156
Washington, DC
Phone: (202) 727-7137
Fax: (202) 727-6491