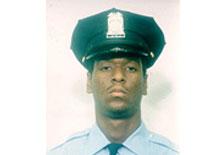 Officer Killed in the Line of Duty
Date of Death: July 18, 1998
Rank: Officer
Age: 24
Years of Service: One and a-half years
Location of Death: 1213 K Street, NW
Circumstance
Shortly after midnight on July 18, 1998, off-duty Officer Thomas F. Hamlette, Jr., was in front of The Club nightclub, located at 1213 K Street, NW, when he became involved in an argument with another man. At some point, Officer Hamlette produced his service weapon, a struggle ensued, and the weapon discharged.
An off-duty MPDC officer was walking toward the club when he observed the struggle and weapon discharge. The officer identified himself and ordered the subject to drop his weapon. Officer Hamlette, with weapon in hand, reportedly turned toward the other officer, at which time the officer fired several rounds striking Hamlette in the body.
Officer Hamlette was taken to George Washington University Hospital and pronounced dead at 1:05 am. Two other men were shot as a result of the incident.
Officer Hamlette was 24 years old and had one-and-a-half years with the Department. He was assigned to the Third District.
Return to the list of officers killed in the line of duty.