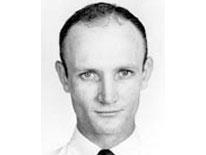 Officer Killed in the Line of Duty
Date of Death: July 12, 1953
Rank: Officer
Age: 26
Years of Service: 2
Marital Status: Married
Location of Death: 1515 16th Street, NW (Rear)
Circumstance:
While off duty, Officer Cassels was standing in the 1600 block of P Street, NW, waiting for another off duty officer to meet him, when the owner of the Gem Cleaners reported to him that he was just robbed at gun point and pointed out the suspect.
Officer Cassels gave foot chase and followed the suspect to a rear alley. As the officer exited the alley, the suspect shot him once in the side.
Officer Cassels died the following day.
The suspect was apprehended the same day.
Return to the list of officers killed in the line of duty.