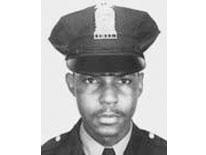 Officer Killed in the Line of Duty
Date of Death: March 20, 1963
Rank: Officer
Age: 24
Years of Service: 1
Marital Status: Married
Children: Two
Location of Death: 3109 Nichols Avenue, SE

Circumstance:
While escorting a man off a city bus, Officer Hunter became involved in a scuffle. The suspect drew a .32 caliber handgun and shot Officer Hunter three times before Officer Hunter could return fire.
Officer Hunter died from his injuries an hour later.
Return to the list of officers killed in the line of duty.