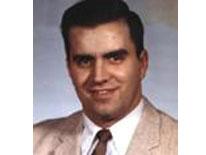 Officer Killed in the Line of Duty
Date of Death: January 24, 1964
Rank: Officer
Age: 28
Years of Service: Three
Marital Status: Married
Children: Two
Location of Death: 1364 Florida Avenue, NE

Circumstance:
At 1:30 am, On January 24, 1964, two robbery suspects entered Natolis Deli and pistol whipped the cashier and stole $120.00. Before the suspects could leave, Officer Handwerk and Officer Connor arrived on the scene and confronted one suspect. A second suspect was also on the scene. Both suspects suddenly opened fire and shot Officer Handwerk five times and his partner was wounded in the thigh.
Officer Connors was able to shoot one of the suspects twice as he was fleeing.
Return to the list of officers killed in the line of duty.