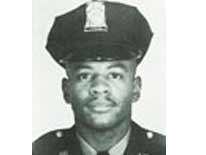 Officer Killed in the Line of Duty
Date of Death: February 2, 1968
Rank: Officer
Age: 28
Years of Service: Five
Location of Death: 308 62nd Street, NE
Circumstance:
On January 27, 1:30 am, Officer Dorsey responded to Eastern Carryout Shop for a man with a gun. Upon Officer Dorsey's arrival he found a man with a shotgun and ordered him to drop the weapon. As Officer Dorsey attempted to arrest the suspect, he struggled for possession of the shotgun. The shotgun went off, striking Officer Dorsey twice in the body.
Officer Dorsey died a few days later from his injuries.
Biography:
View personal remembrances from the officer's friends and family.
Return to the list of officers killed in the line of duty.