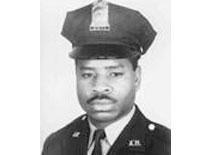 Officer Killed in the Line of Duty

Date of Death: November 15, 1968
Rank: Officer
Age: 26
Years of Service: Two
Marital Status: Married
Location of Death: 6th and Massachusetts Avenue, NE

Circumstance:
Officer Ivery and Officer Taylor were working in plain-clothes. They attempted to stop a robbery suspect in the Stanton Park area. Officer Ivery exited an unmarked vehicle, drew his weapon, and approached the suspect. Two uniformed officers pulled up and saw what appeared to them to be a man with a gun in the same area as a reported armed robbery.
Officer Ivery was told to halt. He turned towards the uniformed officers to see who was yelling. Officer Ivery was shot in the head by the uniformed officer.
Officer Ivery died shortly thereafter.
Return to the list of officers killed in the line of duty.