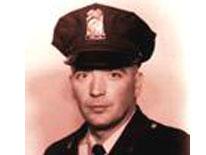 Officer Killed in the Line of Duty
Date of Death: July 14, 1969
Rank: Officer
Age: 29
Years of Service: One
Marital Status: Married
Children: Wife pregnant
Location of Death: 8th & K Streets, NE
Circumstance:
On July 14, 1969 at 1:55 am, Officers Cody and Hawfield were operating a patrol wagon west bound on K Street at 8th. A vehicle failed to stop for the flashing red light and collided with the Patrol Wagon. The force of the accident was so severe that it threw the two officers through the windshield.
Both officers died from their injuries.
As Officer Cody was dying on the ground, a citizen stole his weapon from its holster.
View personal remembrances from the officer's friends and family.

Return to the list of officers killed in the line of duty.