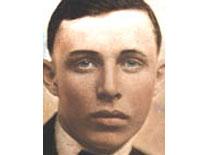 Officer Killed in the Line of Duty
Date of Death: January 21, 1929
Rank: Officer
Age: 21
Years of Service: One
Marital Status: Single
Location of Death: 1213 34th Street, NW
Circumstance:
On January 19, 1929, Officer McAuliffe responded to a Georgetown residence for a family dispute. Upon his arrival, the intoxicated suspect, Samuel "Shorty" Jenkins, fired four rounds from a .45 caliber automatic out of the window, striking Officer McAuliffe once in the left chest area.
Officer McAuliffe was taken to Georgetown Hospital where he died two days later. He was buried at Mount Olivet Cemetery.
Return to the list of officers killed in the line of duty.